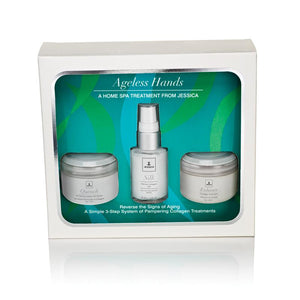 A simple 3-step spa manicure kit for ageless hands.
Includes:
• Enhance Collagen Exfoliator Scrub. 28gm. Aloe and Marine Collagen blend beautifully to renew and exfoliate dry dead skin.
• Quench Revitalizing Collagen Gel Masque. 28gm. A complex of anti-aging botanicals, Marine Collagen and Aloe that work together to hydrate, tone and protect skin.
• Silk Marine Collagen Gel. 25ml. Infused with Marine Collagen and Algae, this anti-aging gel restores vital moisture to the skin. Hands regain their velvety smoothness while firming skin's elasticity.
Jessica Ageless Hands Kit
Get this gift from my dear sister. Love it so much as the result is good, my hand now no more dry, is really moisture my skin.