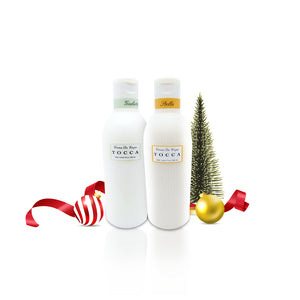 DOUBLE HYDRATION GIFT SET includes (1 each):
Worth RM270
Tocca Crema da Corpo enriched body lotion 9 fl oz / 266 ml (Paraben free) - 2 Bottles
Tocca range of lotions features European fragrances and timeless beauty.
The Tocca Crema da Corpo is an enriched body lotion with natural extracts from sweet almond oil, shea butter and honey to moisturize and soothe dry, sensitive skin. The luxurious formula absorbs quickly, leaving behind silky skin scented of Italian blood orange, pink tulip and green apple.