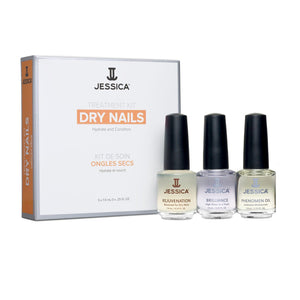 Mini sizes (0.25 oz) of Rejuvenation treatment basecoat, Brilliance topcoat and Phenomen Oil:
• Rejuvenation treatment basecoat: A technologically complex combination of Protein KSW and water that increases the nail's moisture levels, alleviating dryness. The healing benefit of jojoba, aloe vera and Vitamin E are absorbed in the nail plate, conditioning and strengthening, while restoring natural flexibility.
• Brilliance topcoat: Advanced new formula speeds up drying time, while adding an unparalleled high gloss finish. UV inhibitors and reflective polymers prevent chipping, smudging or yellowing. Each time you apply, it's like a brand new manicure, fresh with shine.
• Phenomen Oil: Our best-selling cuticle oil. Enriched with jojoba, almond and rice oil for intensive hydration of nails and cuticles.  Intensively conditions and softens cuticles as it promotes growth and strength of the nail. Excellent too, on elbows, feet, and knees - any rough, dry area that needs deep moisturizing.
Jessica Dry Nails Kit
Dry nails are no more after using this kit. Also buy for my friend because we got same problem.